"LES CABANES" OR "LES SAVOURNINS BAS" – ALIAS "LE VILLAGE DES BORIES" –
AT GORDES, VAUCLUSE
Christian Lassure
A conference with slide show given at the Musée des Arts et Traditions Populaires in Paris
in Jean Cuisenier's and Jean-Marie Pesez's classes (1977-1978)
Part 3
The various groups
10 - Group I, subgroup Ia: side view of house and cabane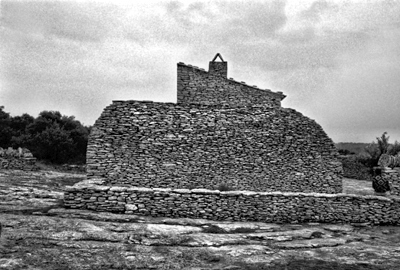 This subgroup is comprised of a conventional first-floor house laid at a right angle with a stable-cum-sheep shelter.
11- Group I, subgroup Ia: the house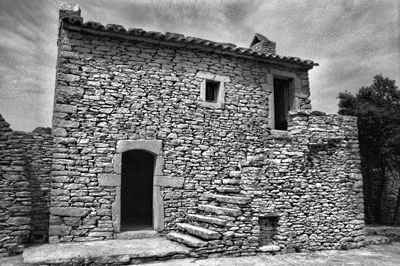 This is a rectangular building, with walls of stones bound with clay mortar, with its façade looking South and its North wall windowless. It has two floors:
- a vaulted ground floor, with two cross-ribbed vaults,
- a first floor, covered by a monopitch purlin roof from which stick out two chimney stacks.
Each floor is graced with its own entrance, the ground floor entrance being on the left, the upper floor entrance being on the right, at the top of an external staircase.
According to Mr Viala, this house may date from the late 17th century or early 18th century. However, according to a collaborator of mine, the lintel above the ground-floor entrance, with its segmental arch, is typical of the second half of the 18th century in Provence.
12 - Group I, subgroup Ia: the cabane
13 - Ditto: the entrance in the gable wall,
with its relieving rectangle above the lintel, and its wooden door hinging on a stile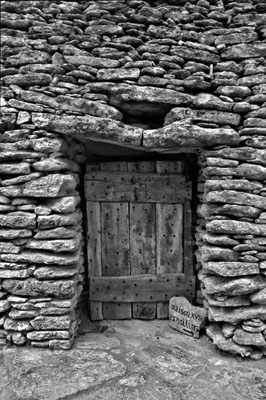 14 - Group I, subgroup Ib: view from the South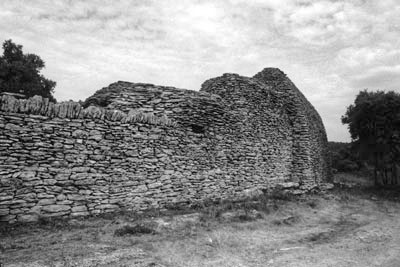 This subgroup consists of an oven and oven-house, a treading vat and a barn-cum-silkworm house set at an angle of 80°.
15 - Group I, subgroup Ib: view from the enclosed yard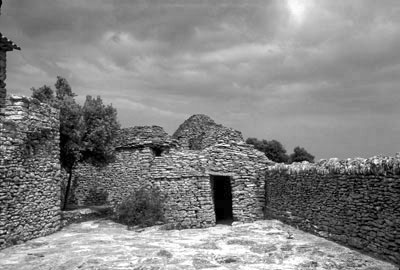 In the foreground, the oven and oven-house; behind, the treading vat and the barn-cum-silkworm house.
16 - Ditto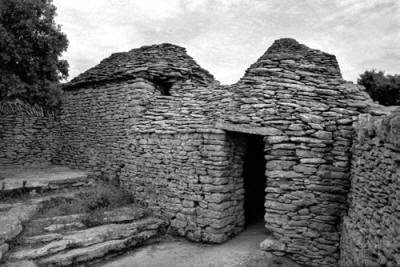 The entrance opens into a vestibule which leads past the oven house into the treading vat.
17- Ditto: a view of the inside of the oven house and the mouth of the oven
The ovens and oven houses present on the site do not boast a corbelled vault, they exhibit, instead, a vault of voussoirs, either cupola-shaped with concentric voussoirs (in the ovens) or semi-circular (in the oven houses). For this type of vaulting, wooden centres are needed (which is not the case with a corbelled vault).
TO BE CONTINUED
---
© CERAV
February 7th, 2004
To be referenced as :
Christian Lassure
"Les Cabanes" or "Les Savournins Bas" – alias "Le Village des Bories" – at Gordes, Vaucluse, Part 3
http://www.pierreseche.com/projection_gordes_groupe_I_angl.htm
February 7th, 2004
Part 1 Part 2 Part 3 Part 4 Part 5 Part 6 Part 7