"LES CABANES" OR "LES SAVOURNINS BAS" – ALIAS "LE VILLAGE DES BORIES" –
AT GORDES, VAUCLUSE
Christian Lassure
A conference with slide show given at the Musée des Arts et Traditions Populaires in Paris
in Jean Cuisenier's and Jean-Marie Pesez's classes (1977-1978)
Part 4
18 - Group II: freestanding hut IIa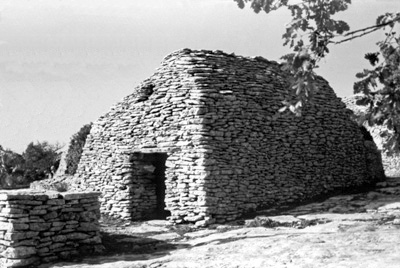 No precise function has been ascribed to this hut by Mr. Viala. Yet, what is left of a former hearth and chimney clearly points to the building having been used - or reused - as a dwelling.
19 - Ditto: view of the gable-wall façade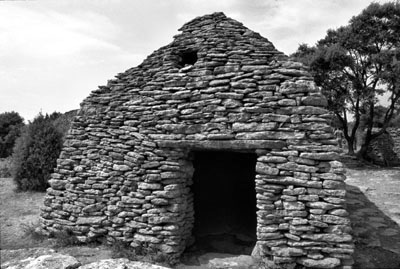 20- Former wheat-threshing yard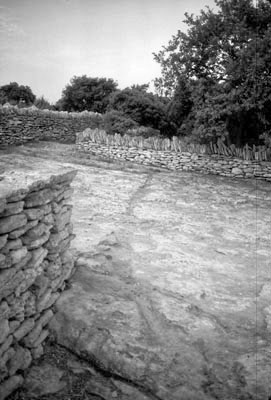 A large, flat expanse of outcropping rock can be seen at the back of Group Ia. A channel cut into the stone serves to evacuate rainwater.
---
© CERAV
May 3rd, 2004
To be referenced as :
Christian Lassure
"Les Cabanes" or "Les Savournins Bas" – alias "Le Village des Bories" – at Gordes, Vaucluse, Part 4
http://www.pierreseche.com/projection_gordes_groupe_II_angl.htm
May 3rd, 2004
Part 1 Part 2 Part 3 Part 4 Part 5 Part 6 Part 7