QUEBEC BUILDS ITS FIRST DRY STONE CABANON!
Alain Prince
Alain Prince (aprince[at]technipierreheritage.com), co-manager of the Montreal-based "Technipierre Héritage" company in Quebec, has kindly apprised CERAV of what is unquestionably a first in the "Belle Province", ie the building of a dry stone cabanon.
We are pleased to publish below, the report and photos we received. This great achievement by our cousins across the Atlantic bodes well for the survival of a building craft that we hold dear.
CERAV wishes to congratulate Alain Prince and his team of builders on their successful venture.
Location : Site of the "Les pierres de Saint-Canut" company at Saint-Canut (three quarters of an hour's drive to the north of Montreal, close to the airport).
350 man-hours to sort out the stones and build the cabanon.
41 tons of stone (hard, beige-yellowish sandstone with a 1.4m3 density and an 85% silica content).
Height of vault = 3.30 m
Overall height = 3.63 m
Outside diameter of base part = 3.65 m
Inside diameter = 1.90 m
Entrance: height = 1.60 m, width = 0.70 m
Window: height = 0.60 m, width = 0.33 m
Depth of concrete foundation slab = 30 cm, height of drain of crushed stones and base part = 1.80 m
Estimated cost (material, labour and general terms): about CAN $30 000.
Duration: from 5th to 14th December 2003 (average outside temperature: - 8 Celsius degrees).
The building experiment will feature in a documentary dealing with traditional crafts in Quebec and due to be released in Spring. A study conducted by an engineer is also in the pipeline. With a bit of luck, there may be a rash of dry stone cabanons in the near future.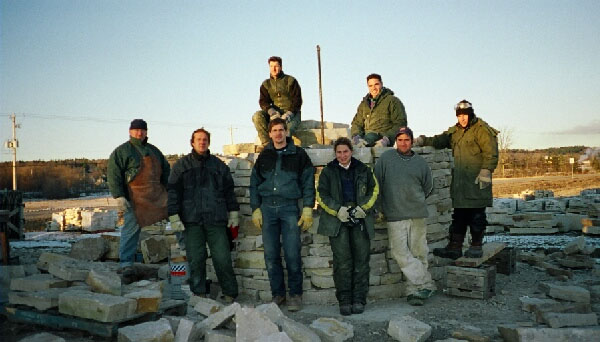 The team of builders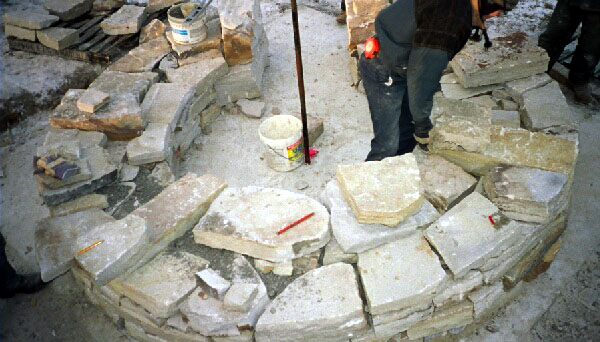 The initial layers of the base part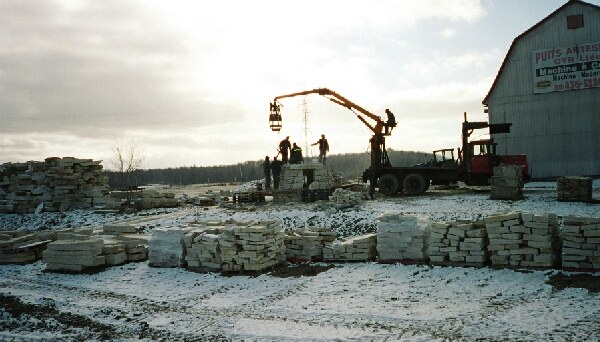 Tackling the roof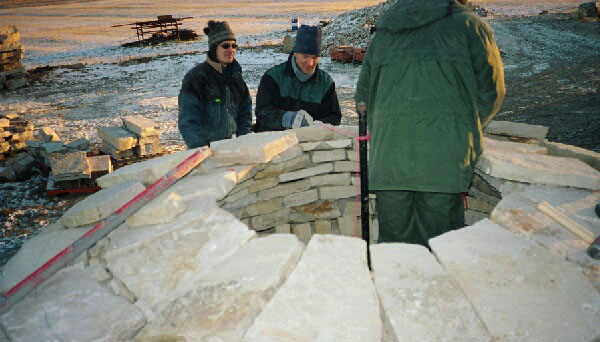 Vault and roof go up at the same time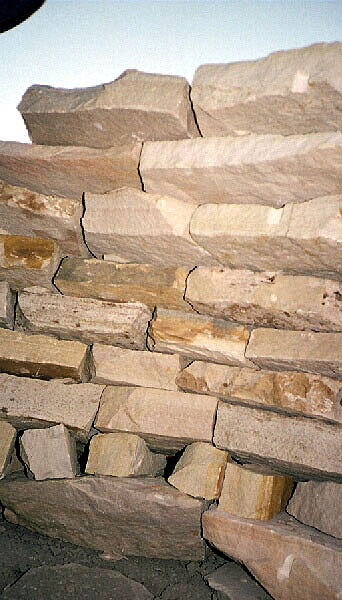 The corbelling becomes more and more pronounced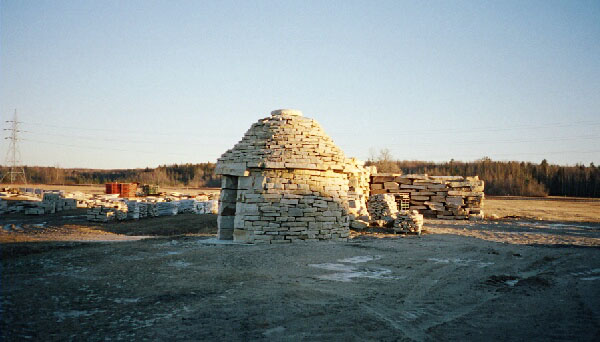 After completion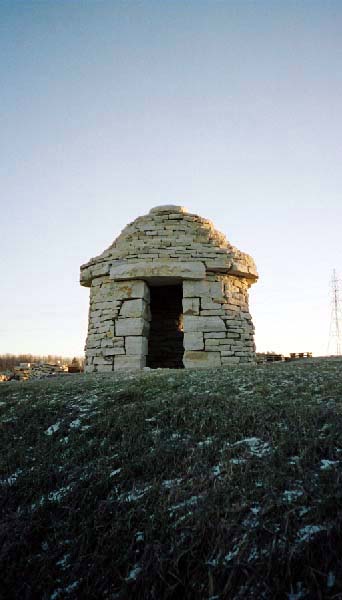 Quebec's first dry stone cabanon
---
To print, use landscape mode
© Alain Prince - CERAV
March 13th, 2004
To be referenced as:
Alain Prince, Quebec builds its first dry stone cabanon!
http://www.pierreseche.com/cabane_quebec_engl.htm
March 13th, 2004