Series: Old Postcards Showing Dry Stone Huts
18 - TURF-COVERED HUT AT PRATS-DE-MOLLO, PYRÉNÉES-ORIENTALES
Christian Lassure
One cannot help wondering at the sight of a dry stone hut that looks like it was built just a short while ago, with its covering of sods freshly taken from the surrounding turf. If the lower part of the hut consists undeniably of mortarless walling, one is left without a clue as to what may lie underneath : is it a stone vault or a rudimentary wooden roof?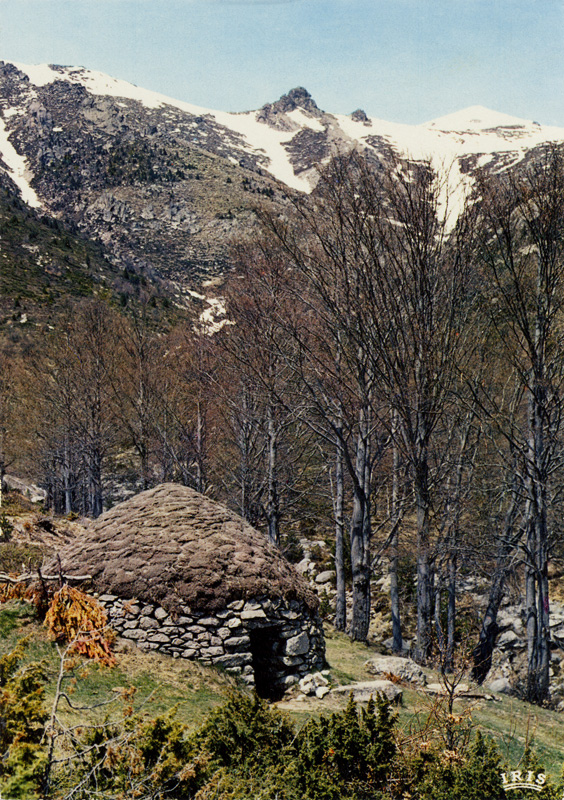 Carte postale des années 1970.
Légende : LE HAUT-VALLESPIR
Aux environs de
PRATS-DE-MOLLO, LA PRESTE
Las Conques - Las Fourquets
avec cabane des bergers
(Altitude : 1900 m)
Éditeur : Editions Modernes « Théojac », Limoges.
There is nothing like first-hand field evidence as is shown by the questions left unanswered in analysing this colour postcard of the 1970's.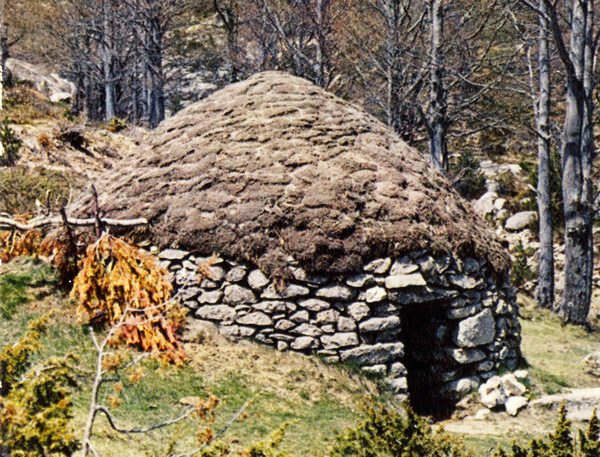 Enlargment.
However, another postcard of the same edifice, published two decades later – the specimen we possess is postmaked 1993 – fortunately provides an answer to this question. A large part of the covering of sods has been removed from the roof, exposing as a result the stone extrados of a corbelled vault.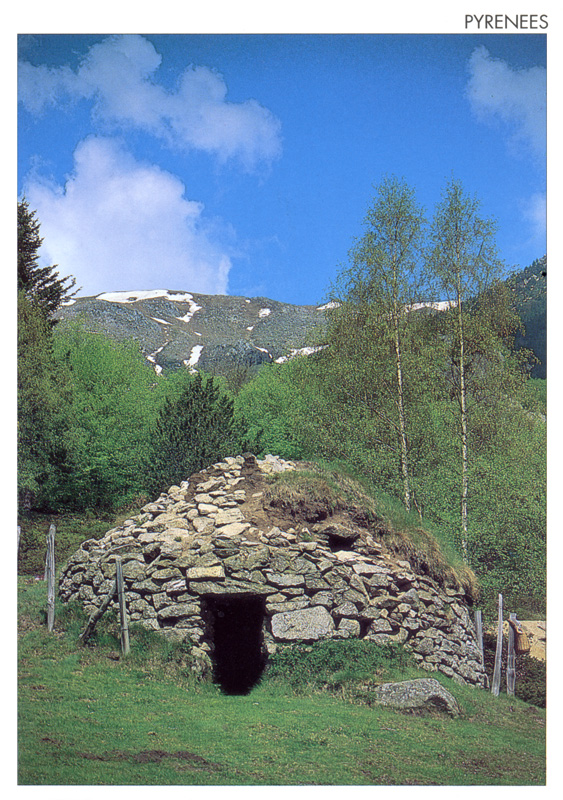 Carte postale des années 1990 (a circulé en 1993).
Légende : MESSAGE DU SUD... PYRENEES : Typique cabane de berger.
Editeur : OBJECTIF SUD - MESSAGES DU SUD - 2, rue Carnot 66150 Le Boulou - Tél. : 68 83 08 41 - IMPRESSION SAC CARCASSONNE.
This being a front, instead of a three-quarters, view, one is able to notice the presence of a small, squarish window opening in the lower part of the roof to the left of the entrance
The caption on the back side – MESSAGE DU SUD... PYRENEES : Typique cabane de berger (A MESSAGE FROM THE SOUTH...IN THE PYRENEES: A typical shepherd's hut) – tells us hardly anything more than is already known.
At all events, these two documents are proof that a turf-covered hut survived well into the final quarter of the 20th century in the Pyrénées-Orientales department.
---
To print, use landscape mode
© CERAV
June 3rd, 2009 - Augmented on March 20th, 2011
To be referenced as :
Christian Lassure
Old Postcards Showing Dry Stone Huts
18 - Turf-covered Hut at Prats-de-Mollo, Pyrénées-Orientales
http://pierreseche.chez-alice.fr/cabanes_et_cartes_postales_18_angl.htm
June 3rd, 2009